Something in Between Hardcover by Melissa de la Cruz
Hardcover: 448 pages
Publisher: Harlequin Teen (October 4, 2016)
Language: English
ISBN-10: 0373212380
ISBN-13: 978-0373212385

Synopsis (From Amazon):

Be the first to read the thought-provoking new novel from Melissa de la Cruz, the #1New York Times bestselling author of The Isle of the Lost and Return to the Isle of the Lost.

She had her whole life planned.

She knew who she was and where she was going.

Until the truth changed everything.

Jasmine de los Santos has always done what's expected of her. She's studied hard, made her Filipino immigrant parents proud and is ready to reap the rewards in the form of a full college scholarship to the school of her dreams.

And then everything shatters. Her parents are forced to reveal the truth: their visas expired years ago. Her entire family is illegal. That means no scholarships, maybe no college at all and the very real threat of deportation.

As she's trying to make sense of who she is in this new reality, her world is turned upside down again by Royce Blakely. He's funny, caring and spontaneous—basically everything she's been looking for at the worst possible time—and now he's something else she may lose.

Jasmine will stop at nothing to protect her relationships, family and future, all while figuring out what it means to be an immigrant in today's society.

*****

"A great read!" —Rachel Cohn, New York Times bestselling coauthor of Nick & Norah's Infinite Playlist

"We're obsessed—and you will be too." —The Editors of Seventeen magazine

"Heartbreaking and bursting with hope, this is the book we all need." —Marie Lu, #1New York Times bestselling author of the Young Elites and Legend series

"This book will change you. A must-read." —Dhonielle Clayton, coauthor of Tiny Pretty Things and Shiny Broken Pieces, and the forthcoming The Belles

"A must-read!" —Ally Condie, author of the #1 New York Times bestselling Matched trilogy

"An immigrant herself, de la Cruz succeeds in presenting a complicated and multifaceted topic in a manner that is light enough to keep readers engaged."—Kirkus Reviews

"[A] great choice for younger teens…This book belongs in every middle school library." —School Library Journal

"De la Cruz presents a timely and thought-provoking look at the complex reality of being young and undocumented in the United States…Readers will root for Jasmine as she fights for her future and finds the power of her own voice."—Publishers Weekly

My thoughts prior to reading it:
I received an Advanced Reader's copy of this book, I didn't request it but it was a nice surprise. I read the synopsis and was instantly intrigued. I felt like I could relate to the character, she is an immigrant but has grown up in the US. One day she finds out that her whole family has been staying in the US illegally she starts to worry. Jasmine is a senior in High School and is looking at colleges but with the news she knows she has just lost a lot of scholarship opportunities because of her status. I can't even begin to imagine how that would feel like. With that being said all opinions are my own.
My thoughts after reading it:


I must admit the book began a bit too slow for my liking. I contemplated putting it down a few times but in the end I'm glad I didn't. The main character is Jasmine, she is a cheerleader and is always pushing herself to do better.
Jasmine receives some great news that she has been elected for the National Scholar Award. She is so excited she goes and tells her family first, however she doesn't receive the reaction she was hoping for from her parents. That is when they confess about the green cards, they don't have them anymore it expired years ago and were technically illegal immigrants in this country. Jasmine's world begins to crumble she had a set goal that she was working towards but now it all seemed so pointless.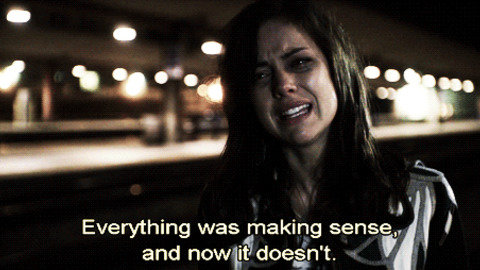 At around the same time she meets a stunning boy. She can't help about feel so comfortable around him and the same goes for him. Things between them get serious quickly but there are obstacles in their way. One being that she may be deported at any moment, two that his father is a congressman that is highly against illegal immigration. Jasmine becomes overwhelmed with everything, she still wants to attend college and her top choice is Stanford but she doesn't know if that is even possible.
This story is very touching I could connect to the character on a personal level. My family moved to the US from Mexico (I am a very white Mexican we come in that color too sometimes click on my about me page to see more) and although I was born here my parents did not speak English so I grew up speaking Spanish. Then when my first day of schooled rolled around, well, let's just say it was less than pleasant. Since of my light complexion people assumed I was white and spoke to me in English. I was absolutely overwhelmed and I cried most of the day. Over time I learned English and felt like the US was more my home than Mexico ever would. I cannot imagine what would happen if I was suddenly told I was illegal and I had to move back to Mexico. My whole life is here, my friends, memories. That is what this character is going through. Melissa de la Cruz, the author went to a similar situation also under the Author's note she writes, "My family was here legally, but we did not yet have our green cards either". I think it is so great that she would write a book based so closely on her life.
I didn't really like the relationship between Jasmine and Royce. It was your typical rich boy meets poor girl and falls in love with her. I don't know I really wanted to like it but I just couldn't (forgive me?).